By Robbi Ross
On Saturday, May 14th, the Tin Lizzies met in Rio Rancho to enjoy a "Bully Buster Breakfast" at Weck's. This "Tn'Vittles" breakfast was organized by Phil and Jessica Lance who live in Rio Rancho.  Weck's is known for their papas and chili and everyone ate to their heart's content. Visiting us from Wisconsin were MTFCA club members Duane and Nita Nichols, and from Portales, New Mexico, Tony and Patti Schroeder, their daughter and granddaughter. In all, 26 people enjoyed the camaraderie and good food.
Six cars owned by the Ross, Mitchell, Dominguez, O'Brien, Merewether, and Duncan families were parked for viewing for those driving on NM528. As usual, our cars drew a curious few wanting to know more about them. It was a beautiful day for a drive and several of our members went to the J&R Museum in nearby Bernailllo after the breakfast. As always, we were a noisy, happy and contented group.
Thank you Phil and Jessica for organizing this enjoyable Tin Lizzie event!

R to L : Ross 1926 Roadster, Mitchell 1927 Tudor, Dominguez 1927 Touring, O'Brien 1916 Touring, Merewether 1926 Coupe, Duncan 1920 Touring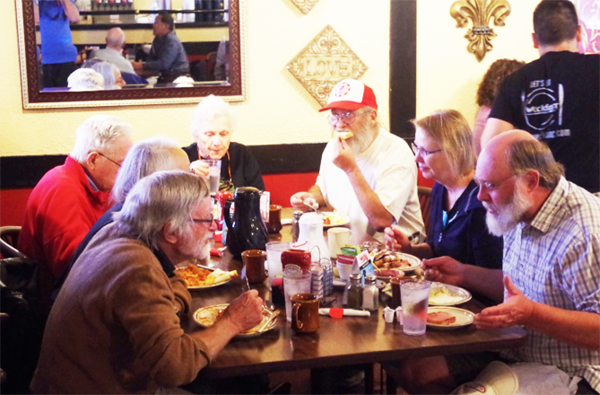 Enjoying breakfast are: Paul, Marilyn, Don S., JoAn, Vernon, Anita & Duane Nichols here from WI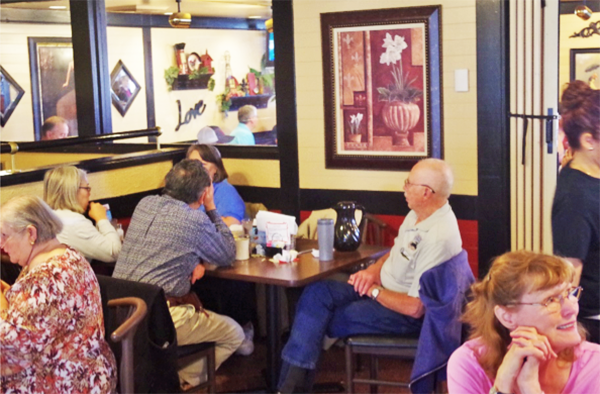 Deep in discussion are: Mark, Susan, Robbi and Neil in front is Liz