T

in Lizzies of Albuquerque was founded in 1979 with the mission to encourage the acquisition, preservation, restoration, driving, and enjoyment of Model T Fords.  We also promote good will and fellowship among our members and our community

.
The Tin Lizzies of Albuquerque is a chapter of the Model T Ford Club of America
…in addition
Ownership of a Model T is not a requirement!
What does this mean?
We have a lot of fun!  There are lots of activities going on all year long. We have active participants and/or committees for touring (short and long), monthly meetings, newsletters, Model T safety inspections, hospitality, parades, T'n Vittles, Rubber Chicken, raffle prizes, holiday get togethers, classified ads, club items (caps, t-shirts, patches, etc), car council, photos, club officers and board members, telephoning, and other Model T-related activities.
Wheels of Yesteryear – 2013 Tin Lizzies of Albuquerque Tour in Portales, NM (a half-hour TV program)
This documentary was developed by KENW, the public television station associated with Eastern New Mexico University.  Orlando Ortega (KENW Operations Manager, Tin Lizzie member, and Portales resident) organized this tour.  Duane Ryan (KENW General Manager) was excited by the idea and believed that the tour should be professionally documented.
Enjoying this tour with the Tin Lizzies were several antique car enthusiasts from Amarillo, TX.  Along with the Model Ts you'll also see a 1913 Buick (right-hand drive) and a Model A pickup truck.
Our sincere thanks to Duane Ryan for making this program a reality and to Orlando, Melody, and Ethan Ortega for organizing this memorable visit to their hometown!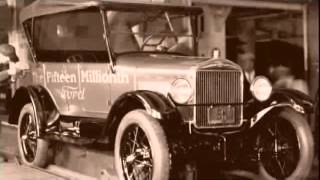 Link to YouTube: Wheels of Yesteryear – Touring with the Tin Lizzies